Rogue Promotions LLC.
We're here to make your job easier!
We know that today's work environment is busy even on slow days. Whether you work in your company's marketing department, the retention office, or out in the field, your work consists of a lot more than buying promotion & publicity items. Let our expert team save you time and money by helping you navigate the 1 million+ products available in our database.
We will do whatever it takes to find you what you need every time. That's our promise to you. From our art design to supervising production to tracking the shipment right to your doorstep, we do what we can to make your job a bit easier.
We distribute over one hundred name brands ranging from UnderArmour tactical gear to Pelican protective cases and everything in between. If you're looking for something that isn't in these pages, let us know and we won't rest until we find it. Our decoration options are suited to fit individual needs. From vibrant screen printing to sophisticated embroidery to detailed laser engraving or even custom decals and pad printing, we'll find the perfect branding option to make your product shine.
Featured Item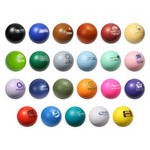 Stress Ball
20 different colors in stock - T